PTFE Bellows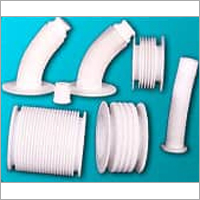 PTFE Bellows
Price And Quantity
Product Specifications
Product Description
Polytetrafluoroethylene (PTFE) bellows are flexible, accordion-like structures made from PTFE, a synthetic fluoropolymer of tetrafluoroethylene. PTFE is commonly known by the brand name Teflon, which is a registered trademark of Chemours. PTFE is known for its unique combination of properties, including high chemical resistance, low friction, and high-temperature stability.
Bellows, in general, are used in various engineering applications to provide flexibility, expansion, and contraction in piping systems, machinery, and other equipment.
PTFE bellows specifically offer several advantages due to the characteristics of PTFE:
1. Chemical Resistance: PTFE is highly resistant to a wide range of chemicals, making PTFE bellows suitable for use in corrosive environments.
2. Temperature Stability: PTFE can withstand a broad temperature range, from very low temperatures to high temperatures. This makes PTFE bellows suitable for applications where temperature fluctuations are common.
3. Low Friction: PTFE has a low coefficient of friction, which means that PTFE bellows can move smoothly without much resistance.
4. Non-Stick Properties: PTFE is non-stick, which makes it resistant to adhesion of substances. This property is useful in applications where materials might otherwise stick to the surface.
5. Electrical Insulation: PTFE is an excellent electrical insulator, which can be important in certain applications.
PTFE bellows are commonly used in industries such as chemical processing, pharmaceuticals, food and beverage, aerospace, and semiconductor manufacturing. They are employed in applications where flexibility, chemical resistance, and durability are essential, such as in piping systems, pumps, valves, and other fluid-handling equipment.
These bellows can come in various shapes and sizes, and their design depends on the specific requirements of the application. The accordion-like structure allows them to expand and contract, accommodating movements and thermal expansions within a system while maintaining a seal to prevent leaks.
Trade Information
Cash on Delivery (COD) Cash in Advance (CID) Cash Advance (CA)

500 Per Day
Free samples are available

Carton Box
Australia Middle East Africa Central America Eastern Europe South America Western Europe Asia North America

All India