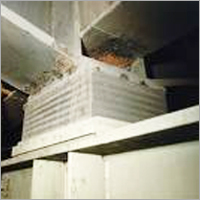 Elastomeric Bearing Pads
Product Code : 73
Price And Quantity
Unit of Measure

:

,
Product Description
Softex Elastomeric Bearing Pads
SOFTEX Elastomeric Bridge Bearings are designed to transform the movement and rotation of bridge structure into elasticity and minimizes the secondary stress generated in bridge because of the layered rubber sheets reinforced by metal plates. These bearings are designed to accommodate vertical, longitudinal, horizontal and transverse loads / movements and rotation of the superstructure caused by thermal effect, traffic loads, structural load, wind load, seismic load etc. These bearings effectively release the stress on the bridge and have excellent rotation in all the directions and movements. The inserted metal plates restrict the rubber expansion on the sides and improve the resistance to load on the bridge as the elasticity of rubber absorbs shock well and lengthens the natural period of stress. Another advantage is the robustness and corrosion free nature of these products, ease and convenience of installation, long service life and customized size to suit the bridge design.
Bearing Pads are used extensively in bridges & flyovers by the construction companies. Also used in industrial machinery and heavy equipment applications. Elastomeric Bridge Bearings are designed and manufactured as per IRCz83 (Part II) - 1987 with the latest amendments, to meet the requirements of MoRT&H specifications for Road 8: Bridge Works to Section No. 2000 to clause number 2005 (Elastomeric Bearings) and to International Union of Railways Code UIC 772 R (Use of Rubber Bearings for Railway Bridges).
Softex is a leading manufacturer of Elastomeric Bearing Pads, Neoprene Bearing Pads or Bridge Bearing pads which are used in bridge and building construction. These pads are commonly used under pre-cast concrete beams, steel beams and in various other support points. These are also used to minimize vibration of structures and at times to dissipate noise in industrial machinery and heavy equipment applications.

These pads are manufactured as per section 2005 Ministry of Surface Transport (Road Wing) Specification for Road and Bridge Works (3rd Rev) and IRC: 83-Part-II, BS and AASHTO standards.

The pads offered by us are highly acclaimed among the clients in the market for its features:
a) High tensile strength
b) Optimal functioning
c) Ozone resistance

Material Properties

| | |
| --- | --- |
| Parameter | Properties |
| Hardness(IRHD) | 60+5 |
| Minimum Tensile strength (MPa) | 17 |
| Minimum Elongation at Break (%) | 400 |
| Maximum Compression set (%) | 35 (for 24hrs @100+1oC) |
| Accelerated Ageing (70hrs@100+1oC) | |
| -Max change in hardness(IRHD) | +15 |
| -Max change in tensile strength(%) | -15 |
| -Max change in Elongation(%) | -40 |
| Shear Modulus range(MPa) | 0.80 MPa to 1.20 MPa |
| Minimum Adhesive strength of Elastomers to steel plate(KN/M) | 7.0 |
| Ozone Resistance test @20% strain, 40+1oC, 96 Hrs@50ppm O3 by vol. | No cracking |
| Maximum Ash content(%) | 5 |
| Laminate | Mild steel |
| Polymer | Poly Chloroprene |
| Minimum Polymer content | 60% |