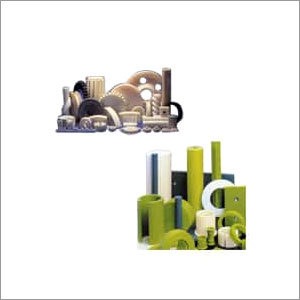 Cast Nylon Products
Product Code : 01
Product Description
We are one of the leading manufacturers of the universally accepted industrial thermoplastic – Cast Nylon in different shapes, colors and properties. Our unique and solely introduced products of industrial thermoplastic are widely popular and used by almost all the manufacturing industries.

We bring our high quality materials into production process to guarantee utmost produce value that reaches beyond customer satisfaction levels. Our Nylon products ensure high graded quality, durability, and production efficiency. We aim at continuous growth and development, and thus, with our efficient working team, we take up regular R&D activities to improve and increase our functionality. We aim at customer's satisfaction and so we allow tailor made production for a wide application value for the customers according to their needs and requirements.
We make sheets, rods, slipper pads, wheels, tubes, pulleys, rings, bushes, plates and other engineering components in Cast Nylon/MOS2 filled cast nylon and oil grade cast nylon to given drawing or samples as per customer requirements.
Our Products
We are the leader in the manufacturing of Cast Nylon products. We have complete manufacturing capabilities to form a wide range of shapes including tubular bar, rod and plate stock, etc. Our wide range of products includes:

Cast Nylon
All types of wheels and Rollers
Gear wheels
Bearing Bushes
Pulleys
Slipper Pads
Trolley Wheels
Component
Rod and Tube